TriXstar is a Persian reggae and dancehall star who grew up in Germany due to her parents leaving Iran after the revolution. But, although she calls herself "Dancehall Terrorist" and "Terrorist of Love," she never spoke publicly about the situation in her home country. She says: "People in the west often perceive me as a potential terrorist, that's why I started to call myself Terrorist of Love, so they at least know what kind of terrorist I am.
My weapon is the microphone, and my ammunition is love." Beyond that, she never addressed specific politics and focused on her mission to strengthen the people around her and spread love and confidence.
But recent developments in Iran changed that drastically.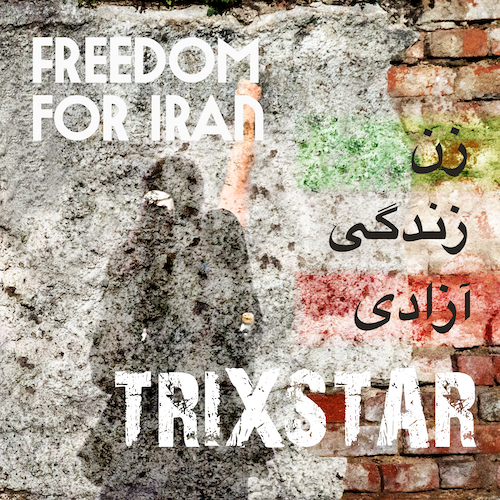 To see women in Iran fighting for their rights and their freedom makes me proud to be an Iranian woman. I still have family over there, and feel their struggle. Maybe it especially triggered me because I had a huge argument shortly before the protests started about why I don't visit Iran for holidays and to meet my family.
My point was, that I can't go to a country where everything I stand for is forbidden. I'm a professional singer. I sing and dance in front of an audience for a living, while singing and dancing is strictly forbidden for women in Iran. I encourage the people around me – especially women – to live their lives to their full potential, while women in Iran are extremely limited in their options. Finally, I am an outgoing person, and I enjoy all the freedoms I have here in Germany, while in Iran I would have to oblige to strict rules about how to present and behave myself in public.
The hijab laws are just the most obvious ones, but they represent a regime that systematically oppresses women's rights. After I had made my point, I was told that I'm no longer an Iranian woman but instead have been assimilated by the German society. That hurt really badly and gave me more than one sleepless night. So, when the protests in Iran started, it touched me even more, as it approved what I was arguing before."
That was when TriXstar started to write زن، زندگی، آزادی – Freedom for Iran (زن، زندگی، آزادی or Zan, Zendegi, Azadi means Woman, Life, Freedom and is the slogan of the protesting Iranian women) to use the voice she has to support the women in her home country.
This may be TriXstar's first song that deals with actual politics, but she has constantly spoken her mind and tried to support women and all kinds of underprivileged people to fight their obstacles. Zan, Zendegi, Azadi – Join the revolution. For women's rights and freedom for all in Iran and worldwide.
Trixstar Weblinks
Homepage   https://www.trixstar.de
Facebook   https://www.facebook.com/TriXstarMusic
Twitter   https://twitter.com/TriXstarMusic
Instagram   https://instagram.com/TriXstarMusic
Soundcloud   https://soundcloud.com/TriXstarMusic