Reggae Jam 2018: 25 years of Reggae Jam! In this special year of silver jubilee and exceptional heat wave, Reggaeville presents you with the highlights and cool spots of this friendly (and, according to Riddim Magazine's reader poll) #1 festival. Again, the small town of Bersenbrück embraces an international community for a weekend filled with Reggae, Dub and Dancehall. The shop windows are decorated in red-gold-&-green, pharmacies promote ear plugs, mosquito repellant and condoms, and two clever kids sell cool ice – the whole city is prepared for these coming days of Reggae Jam! Seen through the eyes of the Reggaeville crew as well as their friends and family, our report will bring you the vibes in both word and picture – as usual!
WATCH THE REGGAE JAM VIDEOS HERE! # VIEW THE PHOTO REPORT HERE!

KICK OFF – THURSDAY [AUGUST 2, 2018]
8:05 pm, Riverside Disco by Gardy (Reggaeville reporter) & son & friends
Upon finally reaching Bersenbrück (the trip was long, hot and difficult, both by train and car), our first and only thought is a quick bath. As the public swimming pool is already closed, we join around fifty others, jumping and splashing in the Hase river.
Food stands are up and running already, as is the Riverside Disco run by the Sunfire Soundsystem. From afar, we hear the sound of rhythmical drumming from the Samba group who inaugurates the Dancehall Tent. Despite the heat, a crowd hungry for party has assembled there. Surprising us with cameos by Fantan Mojah, Bunny General and Wickerman, Basement Sound and Sheriff's Soundpatrol welcome the visitors of this special quarter century edition.
From 10pm onwards, Sensi Movement, Dynablaster and Bass Station take turns in firing up the place with the top 100 of both past and most recent Reggae and Dancehall parties, and those who have already found their camping spot dance the night away.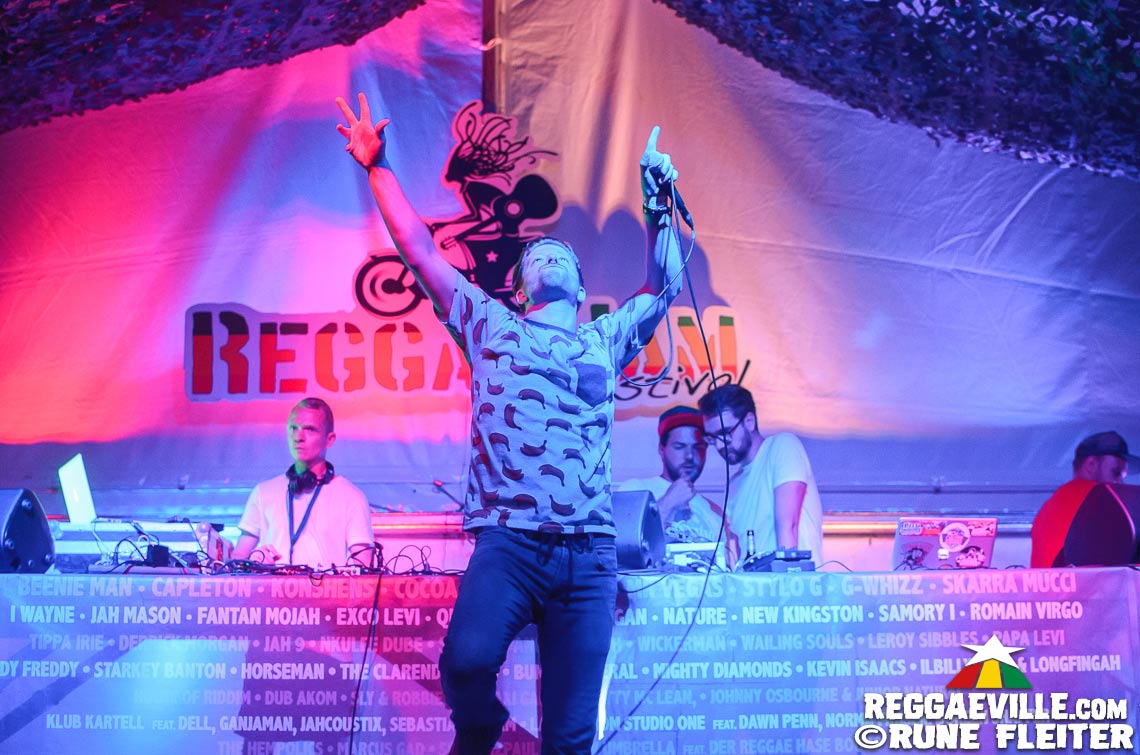 11:45 pm, Dubcamp Rootsplague Soundsystem by Moe (DJ & friend)
Marshell Madders delivers a relaxed set that rolls like molten chocolate from the huge speakers of the mighty Roots Plague Soundsystem. The cool night air brings relief to all, especially to those who came here as early as 5 or 6pm to follow Subtone Circus and Boomtown Shakedown's opening concert. On the way back to our camp we pass a few people who greet friends they haven't seen for a year. A calmly lit Riverside Disco and a star-studded sky (including planet Mars) accompany us to our tents. Early bedtime to be fit for what promises to be an exciting tomorrow!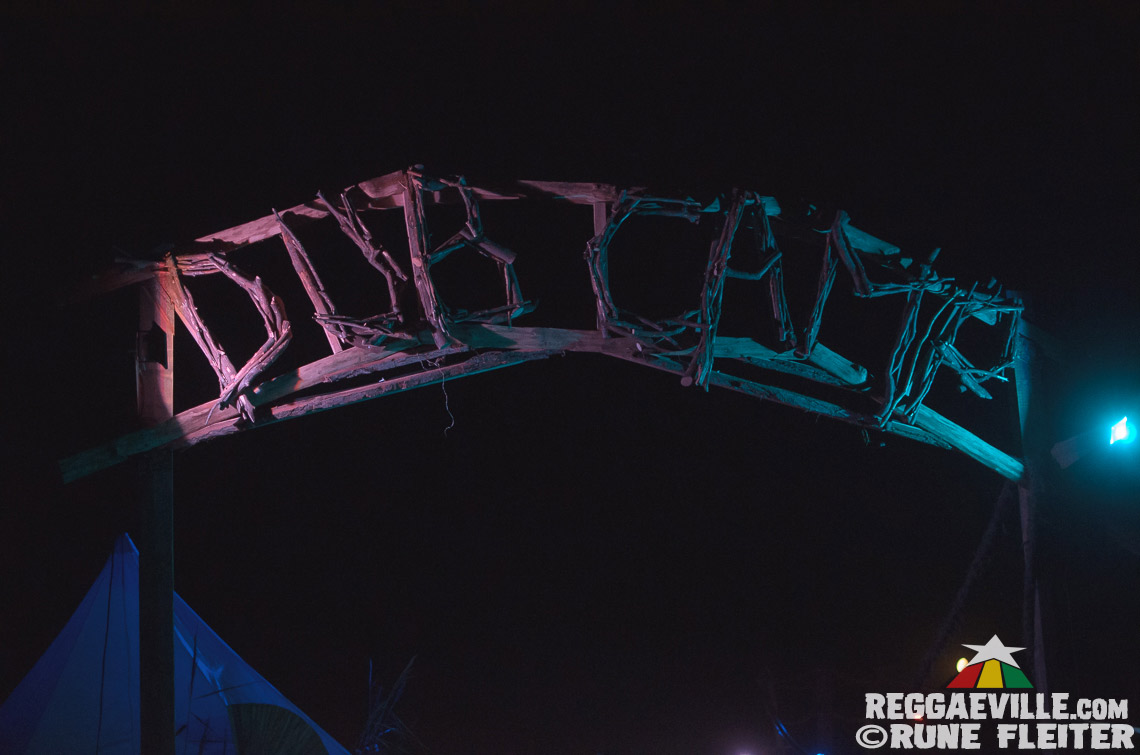 DAY ONE – FRIDAY [JULY 3, 2018]
1:44pm, swimming pool, by Naim (Gardy's son)
The only way to handle this piercing sun is staying in the water as much and as long as possible. We've been supplying ourselves earlier with everything necessary for an extended stay in the pool – goggles, ball, snacks and drinks. They just made an announcement asking everyone on the grass to enter the water, as they want to do a group picture. I can imagine that this is the fullest the bath ever gets, as most people here are clearly festival visitors.
Swimming makes hungry, so we later check out the food stands around the Hase river, and while mum takes a lentil curry at Kalle's Kochstudio, I opt for some yummy French Fries. Since mum has to be at the festival when the concerts start, we get ready in time to catch Unlimited Culture. I like the way lead singer Lenny sings and talks (he has such a funny accent!), and his band member's hat and stick!
7:15pm, Main Stage, Marcus Gad, by Gardy (Reggaeville reporter)
Already my discovery of the festival: Marcus Gad! The artist from New Caledonia spreads a laid-back sound and vibe that mingles perfectly with the golden evening sun. Impressive vocals and conscious lyrics, Marcus Gad's music makes for a groovy, down-tempoed start. Their first time in Germany will be a memorable one, as songs like False Prophets or Keep Cool are so skilfully delivered by David Garcia (bass), Jean Hoareau (drums), Remy Duprat (keys), Nico Duchamp (guitar) and Raphael Baldy (guitar). Marcus tells us about the 380 tribes of his home country, and then invites Ounine Pawaop on the mic, chief of one of them.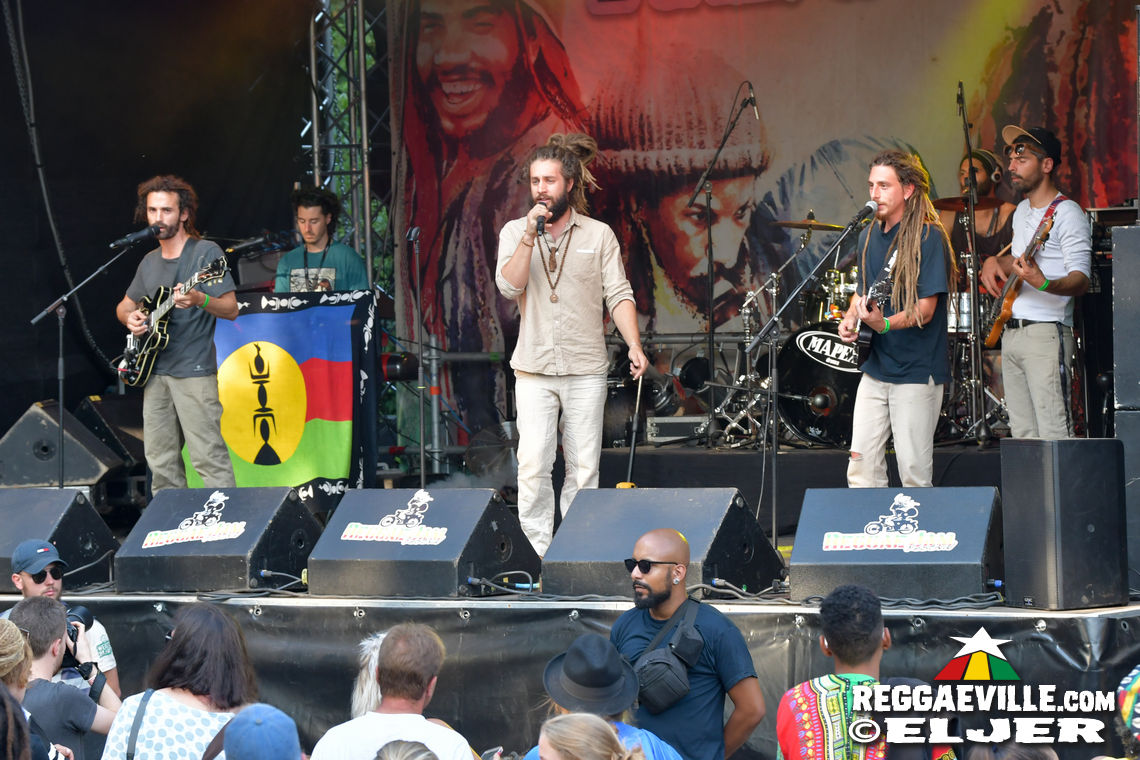 8:01pm, Special Stage, Samory I, by Björn (Reggaeville videographer)
The place is full already, and Samory I enters the stage to the loud cheers of a happy, dancing crowd. He introduces a powerful Black Heart Band, the bass player of which used to play with Uprising Roots and, due to a cable-less connection to his bass, moves and jumps around on stage. Drenched in sweat after the two first songs, Samory takes off his shirt and ignites a moving frenzy by his sheer energetic presence which reaches its climax with Black Gold (the title track of his phenomenal debut album) and Rasta Nuh Gangsta. Deep Roots time that's fun to ban on film!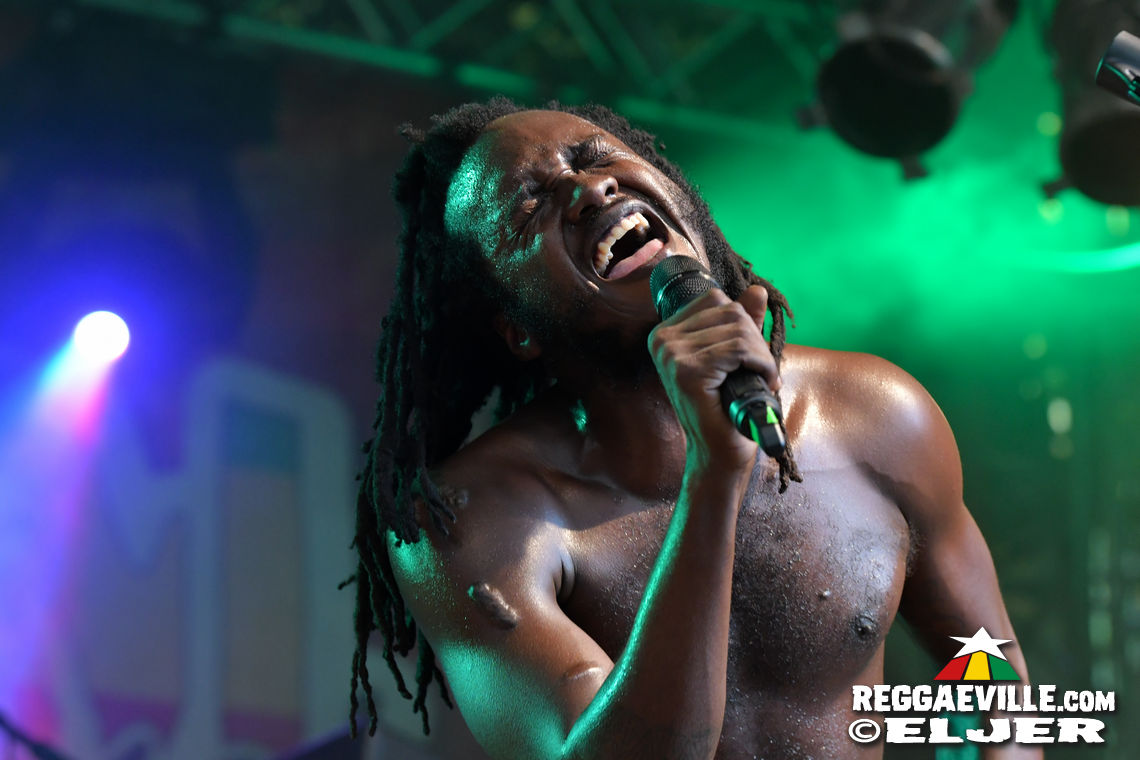 8:52pm, Main Stage, Nkulee Dube, by Gardy (Reggaeville reporter)
Nkulee Dube, in a stunning outfit of bright green top and red ethno-print pants, is the first of three powerful female voices on this Friday. Special about this slot: the daughter of South-African pianist, singer and songwriter Lucky Dube performs on the day he would have celebrated his 54th birthday! In his memory, she tributes songs like Don't Cry, Back to My Roots, or Reggae Strong, accompanied by danceable African rhythms and rhythmical African dancers. Taking over from her, Stylo G then shifts the dancing mood to a Dancehall-level on the Special Stage, and his propelling hit Call Me A Yardie guides our hunt for food, resulting in Ackee & Saltfish at Ivan's Jamaican Cooking.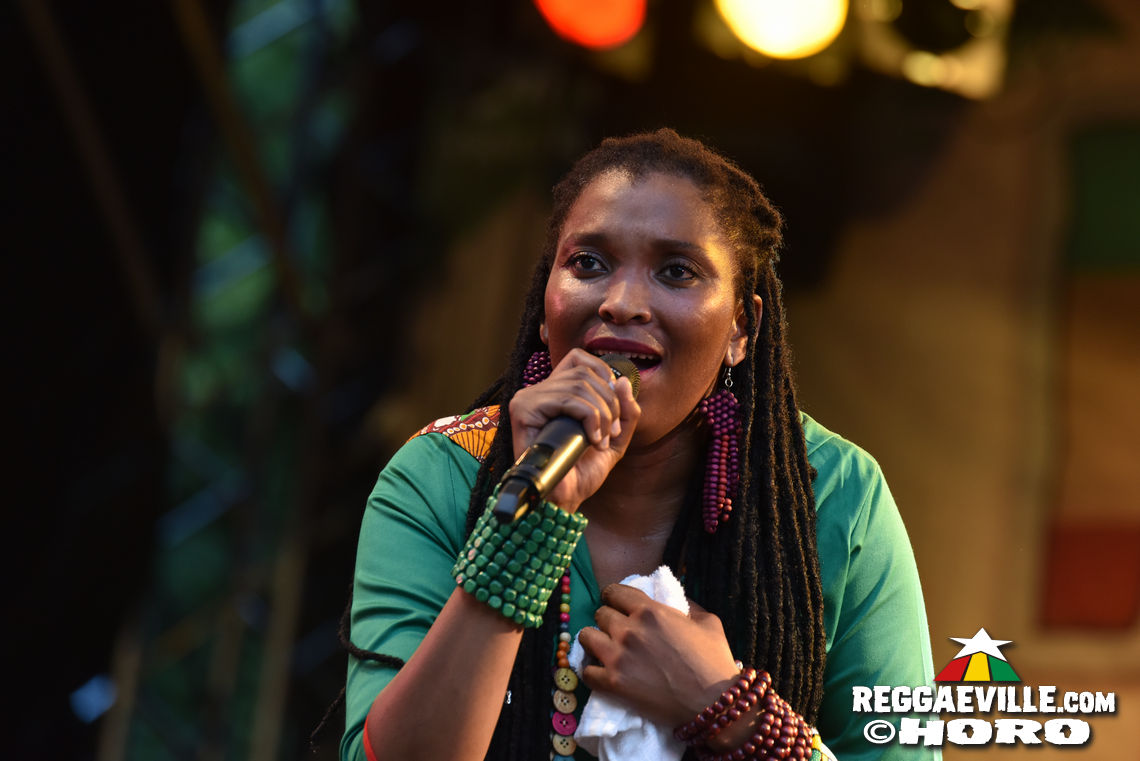 10:44pm, Main Stage, Exco Levi, by Tim (friend)
A spherical intro takes over the vibe built by Exco Levi, a Jamaican-Canadian performer who presented tracks from his most recent album Narrative. Lights and the gathering darkness and, most of all, Jah9 and her fantastic band The Dub Treatment, shift the mood yet again into Soul, Roots, Dub and Rubadub on the Special Stage. The singer's vast musical and vocal spectrum finds its expression in songs like Avocado, Humble Me and the trancy Warfare.
11:36pm, Main Stage, Jah Mason by Gardy (Reggaeville reporter)
Jah Mason aka Farmer Mason hasn't been on tour for a while, and so I was looking forward to his show. Diving into the crowd, I link up with my Camp Crew, as experiencing this artist's word, sound and power together is pure joy. Mason's characteristic blend of warm, soft singing and forceful delivery keep building tonight's energy, and he takes time to big up "all who made this possible, organisers, promoters, journalists and radio people". Keep The Joy is telling us to stay happy today as we never know what tomorrow will bring, while Highgrade invites us to "promote it, even if you don't smoke it". And, of course, all voices and hands are up for My Princess Gone!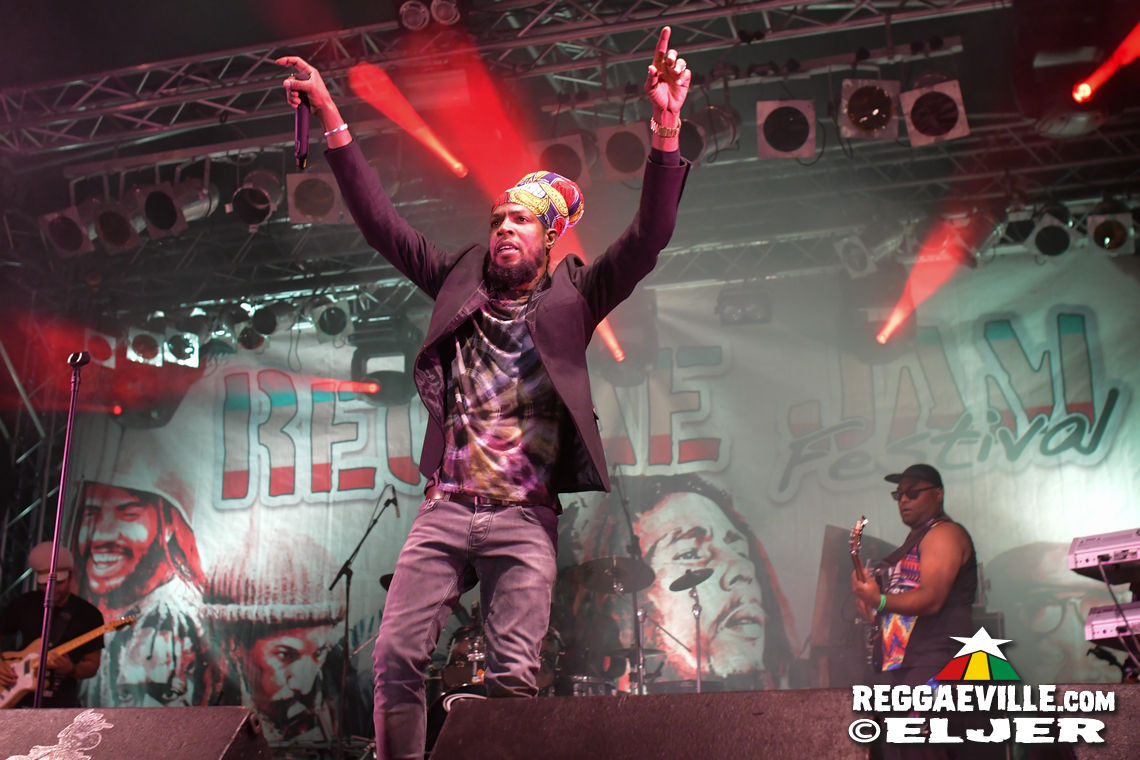 00:22am, Special Stage, Queen Omega, by Moe (friend)
What a voice! Queen Omega, who hails from San Fernando in Trinidad, is the third female entertainer of the night, and her performance is impressive. She sings both older songs like Selassie I Know and new pieces, taken from her last album Together We Aspire, Together We Achieve. After her show, we go to the Dubcamp to let Zion Garden and Roots Plague bass-massage us.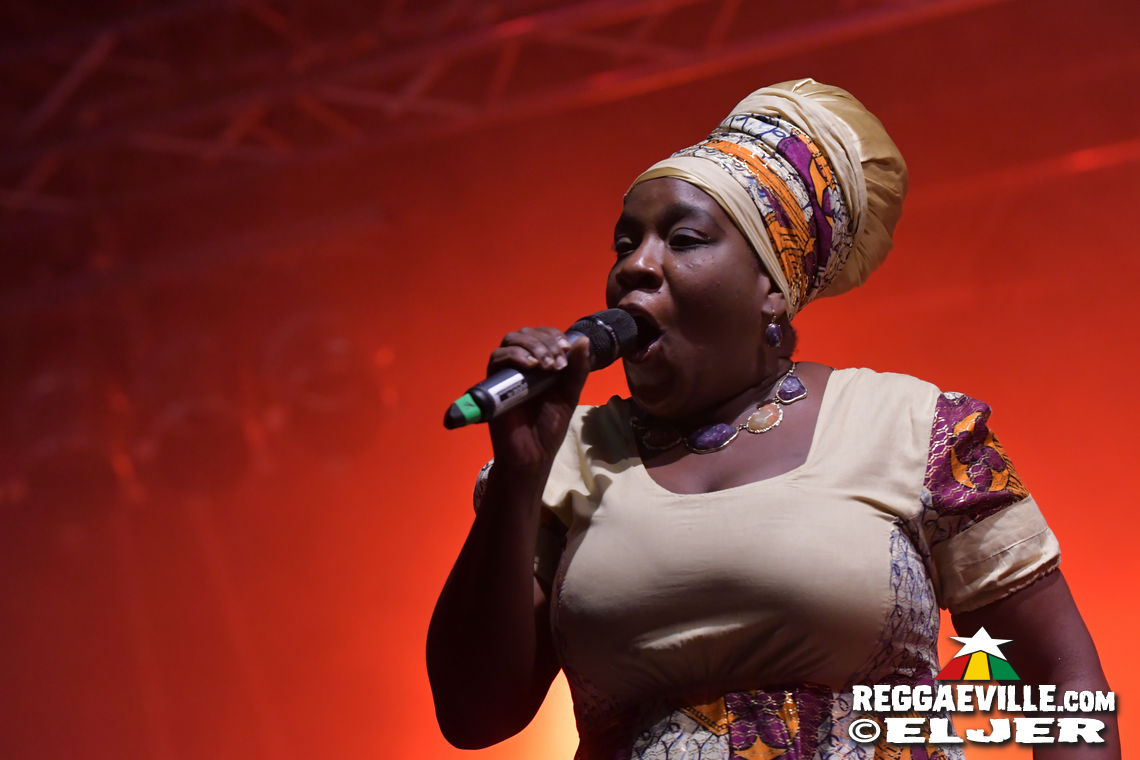 01:16am, Main Stage, Konshens & Capleton by Gardy (Reggaeville reporter)
Hurrying back to the festival grounds from a short visit to our Camp, we arrive in time to see Konshens make his appearance on stage. He has things planned for us, it seems: "Yesterday I was in Oslo in a little club and they were jumping on the roof. Reggae Jam, are you ready to jump?!" And ready we are! What A BamBam, Murder She Wrote and Good Girl Gone Bad heat up the dancing mood, and when Konshens makes room for a professional dancer during Gal A Bubble, the audience goes crazy. "If you love Dancehall, put your hands up!"
After this sizzling show, Konshens falls into the arms of my colleague Munchy, who records her next Wha' Gwaan Munchy?!? with him. Andrew Tosh, who for the most part covers songs from his legendary dad Peter Tosh, closes the Special Stage, while Capleton rips the place apart – loud, yellow and energetic.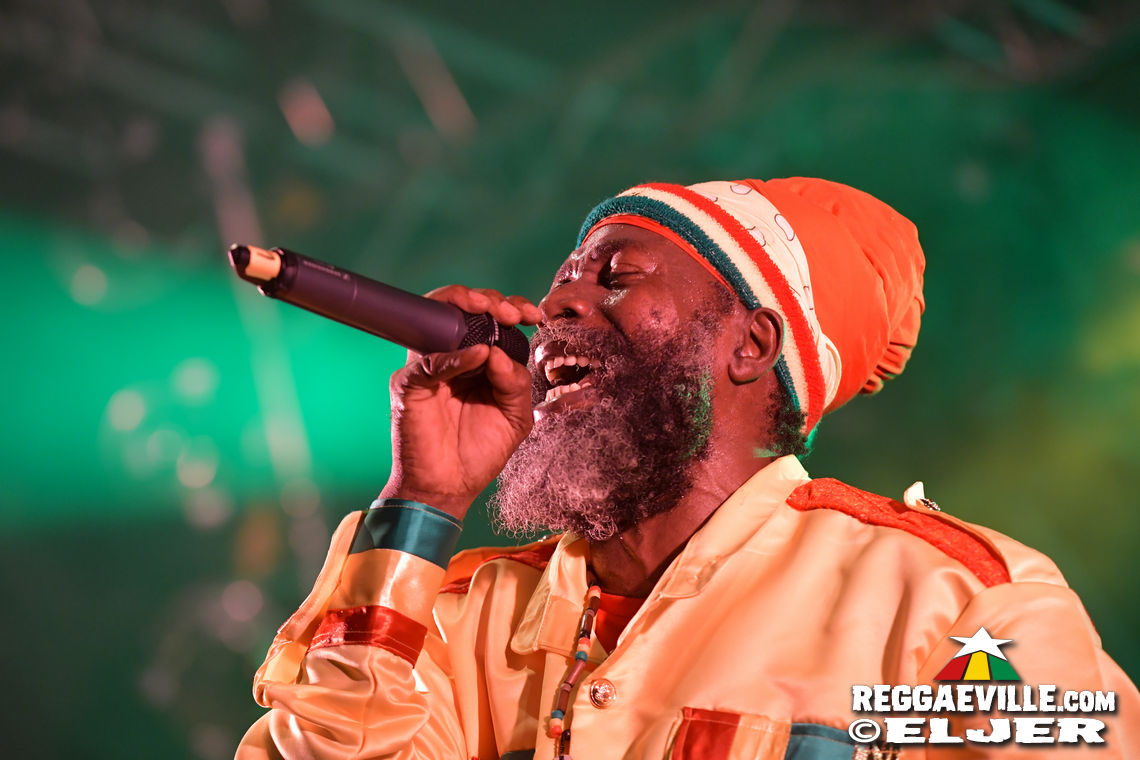 Our night ends in the Dancehall Tent, with a heated selection of Silly Walks Discotheque, Pow Pow Movement and Blessed Love. The way "home" holds a romantic surprise: we spot a trail of rose leaves that ends in a heart-shaped ring of candles. A passing man calls out "Did she say yes?" and, from inside a tent, the answer "Yes!" – claps and laughter.
DAY TWO – SATURDAY [AUGUST 4, 2018]
01:55pm, Main Stage, Ganjaman, by Gardy (Reggaeville reporter)
As sleep is essential and necessary, the traditional Ganjaman breakfast show is almost over when I arrive. More faithful fans are up already and enjoy themselves in the bright midday sun. Just under the big stage screen hangs a picture of Luna Lioness, as Ganjaman explains later on, the festival's "right hand", who sadly passed away earlier this year. Keeping the memory alive!
02:20pm, Special Stage, iLLBiLLY HiTEC, by Björn (Reggaeville videographer)
Luring people into the shadow of the huge copper beech, the special stage now hosts iLLBiLLY HiTEC. Citing their Reggae Not Dead album, they bring across what they call Reggaetronics with the characteristic band-set-up of live drums (Gidi), live guitar & sax (Gabriel) and DJ Alex. MC and singer Longfingah adds his flow to the driving music, delivering tracks like Higher Calling to a crowd that's still a bit paralyzed by the heat.
02:49pm, Main Stage, Schwarzpaul, by Gardy (Reggaeville reporter)
Another German act, Schwarzpaul is up next. The band formation around singer Tim has played an inspiring set at the Dubcamp last year, and, due to their interesting lyrics and fresh riddims, is now part of the main program. Progress!
As the heat is progressing as well, the swimming pool has almost more visitors than the stage, where Singing U and Cat now perform. They have stepped up as well, from roaming the camping grounds and sharing out CDs last year to a slot on the special stage this year, bringing to our attention songs like Natural Livity and one that reminds me strongly of Jimmy Cliff's Rebel In You.

04:31pm, Main Stage, Macka B, by Rall-Fi (Irie Ites reporter)
This man is a teacher! In a comprehensive way that's authentic and believable, Macka B shares his views on life, nutrition and music with the crowd that yet has to grow. The mood is good but not exuberant, and songs like Sex Machine, Medical Marihuana Card or Never Played A 45 find smiling and easy skanking reception. The well-known Cucumba results in the most movement, and somebody even brought a cucumber to hold up into the air.
05:07pm, Art Gallery & Bazar, by Gardy (Reggaeville reporter)
Since I've seen Macka B twice during the last few weeks, I take a rare break during his show to visit the poster exhibition organised by Maria Papaefstathiou. Artists from around the world have contributed their pieces to the International Reggae Poster Contest, the finalists of which can be admired here. Reggae visually expressed!
Further expressions of Reggae culture are on display to be taken home. Everything from clothes, jewellery and shoes to instruments, CDs, vinyl and, of course, food can be purchased here, and the stalls of the merchants contribute to the colourful experience of this festival.

05:39pm, Special Stage, Micah Shemaiah, by Malte (friend)
Straight outta Kingston, Jamaica, Micah Shemaiah & The Dreadites now grace the special stage. Their deeply roots-based music expresses spiritual content, brought across by Micah's vibrant, powerful vocals. The band consisting of Matthias Reulecke (percussion & Ukulule), Giant (drums), young Wilmot (bass) as well as a keyboarder and a guitarist plays tight, with deep rolling bass-lines and melodious instrumentals that are a perfect fit for the tracks taken from Shemaiah's most recent album Roots-I Vision. Another Jamaican artist who recently came back to international attention is Mark Wonder, taking over the main stage at 6pm with excerpts from his current album Dragon Slayer. Especially the end of his set, with songs like Signs Of The Times and I'n'I Hail Jah, levels the late afternoon vibes.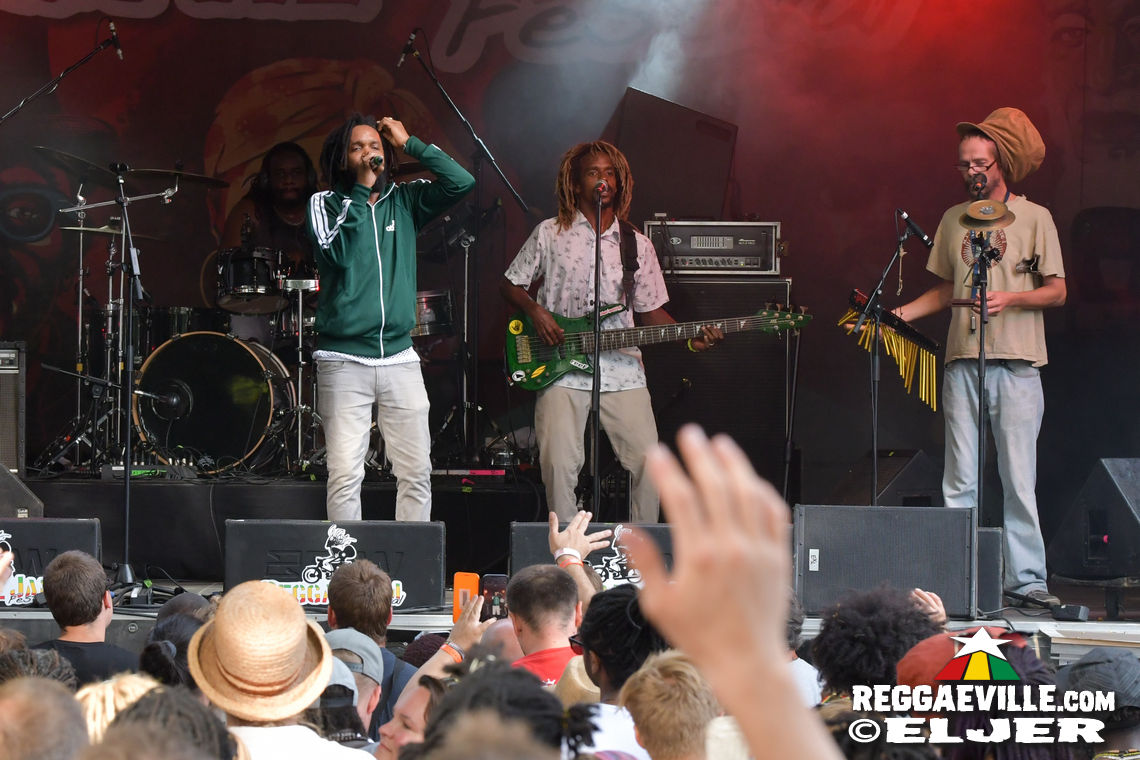 07:03pm, Special Stage, New Kingston, by Gardy (Reggaeville reporter)
New Kingston has a dynamic start and is fun to watch. The three brothers and bass-player Daddy Panton who live in New York started playing together as soon as the boys mastered their instruments, and Tahir (keys), Stephen (guitar) and Courtney Jounior (drums) win over many a new fan with their harmonic vocals and skilful playing. And even those who don't know their most recent album A Kingston Story: Come From Far are swept away by songs like the groovy Look How Far We Come. "New Kingston stand for never giving up. Believe in yourself!" is the message Tahir conveys on the mic, and then his father and Courtney Junior dive into some joint drumming action.
07:55pm, Main Stage, Leroy Sibbles, by Tim (friend)
Foundation time again! The singer, songwriter, bass player and arranger who is responsible for many Studio-1-classic riddims (Answer and Party Time, for instance) has lost nothing of his charismatic voice. His delivery of Mr. President, Rock Me Baby and especially the unforgettable Book Of Rules give no hint of the 69 years he counts, and Mr. Sibbles takes a minute to express his gratefulness for every morning he rises as well as for the opportunity to perform for a crowd like this. Next thing we know, Sheriff stands on stage next to the artist, collecting an extremely-deserved round of applause for the organisation of this festival and its acts. Special mention deserves the Reggae Jam Band, who are doing a great job backing artists like Mark Wonder, Leroy Sibbles and others.
8:41pm, Special Stage, Nature, by Gardy (Reggaeville reporter)
Another backing band doing a fantastic job is House Of Riddim, playing in this very minute for an artist who is my second discovery of this Jam. Of course I've heard about Nature before, but I've never seen him perform live, and I can tell you, it's quite an experience! Taking over the whole stage, he swirls, gesticulates, strolls and, most of all, sings as if he's been preparing for this show all his life. The band's Nyabinghi vibes underline the serious cultural messages he brings across, and his strong energy and performance is something I surely won't forget.
9:22pm, Main Stage, Skarra Mucci, by Julian (Reggaeville boss)
The place is full by now! Less sun means more people, and Skarra Mucci makes the most of his prominent slot. Backed by France's Dub Akom, a band the artist has been working with for some time, finally some movement is noticeable in the crowd, especially with his take on Bam Bam, a song that runs like a red string through this 25th festival edition. Taken from his Greater Than Great album, tracks like Champion Sound are a joy to follow, and at the end of Mucci's set, hundreds of hands are up in applause.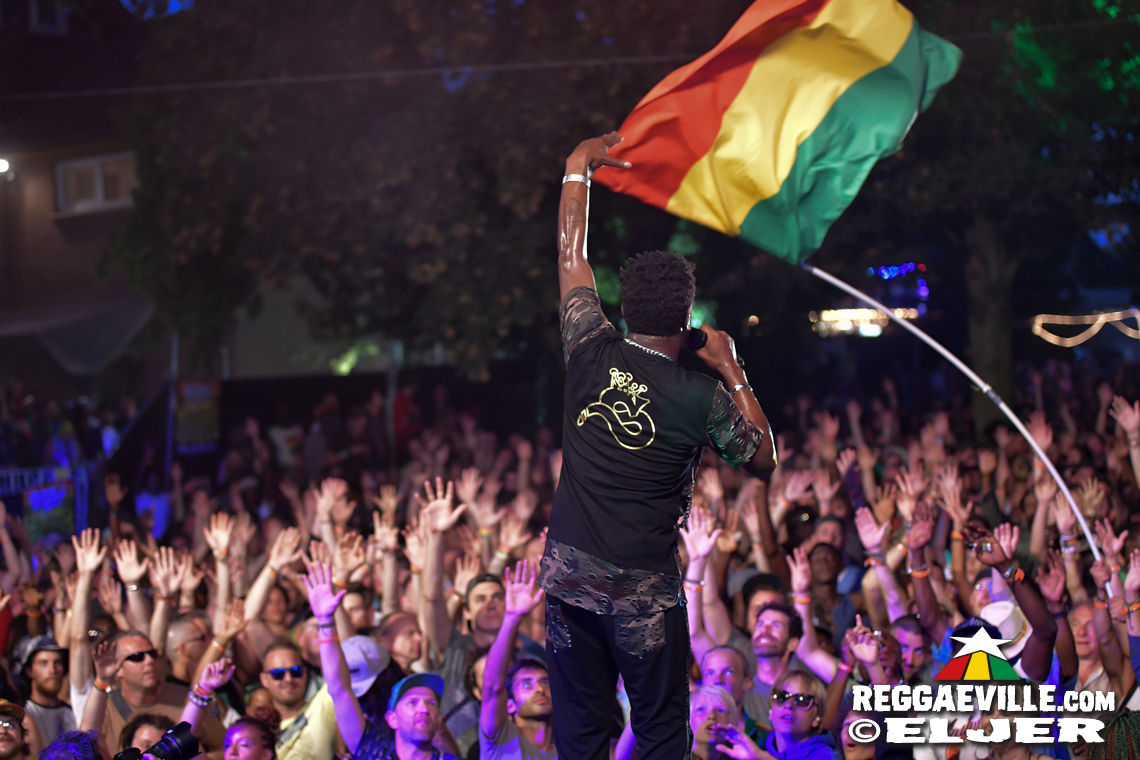 11:36pm, Main Stage, Fantan Mojah, by Lucky (Reggaeville intern)
After an interesting show by Wickerman on the special stage during which Sheriff played some percussions, the first thing Fantan Mojah did when he came on was introducing himself to the people – very likable! I also like the way he interacts with the audience the whole time. The Jahvolution Band and especially the background singer was very good, and her voice and actions gave the show an impressive touch. The most response could be felt with Mojah's songs Hungry and Rasta Got Soul, both of which the spectators seemed to know well.
00:34am, Special Stage, Bunny General, by Horo (Reggaeville photographer)
My kind of artist! Bunny General works hard to engage the unresponsive crowd, bass line pumping the whole way through the tracks and bringing the 90s Dancehall stylee to our attention. At the end of his set, the dancing mood is back, and I return to our Reggaeville working desk backstage to upload the new picture gallery right away.
01:47am, Main Stage, Klub Kartell, by Gardy (Reggaeville photographer)
A special experience I've been very much looking forward to: Ganjaman, Dellé, Sebastian Sturm and Jahcoustix came together in a project called Klub Kartell. Four exceptional voices joining forces to deliver both individual songs of the artists and material they've been starting to work on from scratch. Jahcoustix starts with Another Day, followed by Dellé with Pound Power. Next is Ganjaman with Wir Gehen Diesen Weg and Sebastian Sturm delivers Invitation, and each of the artists takes turns in backing the respective lead singer. Harmony!
Ganjaman mentions the deceased Luna Lioness once more, livicating his next song Ist Die Angst So Gross to her, followed by a very touching acoustic Ich Wünsche Mir So Sehr. Dellé picks up the pensive mood and livicates the subsequent Redemption Song to co-Seeed-singer Demba who has passed away unexpectedly and much too soon this may as well.
With Jahcoustix' Appreciation as well Tic Toc and Old Papa Noah by Dellé, the dancing is on again, and this boost of energy bids the people farewell after a full, diversified, loud and hot Saturday.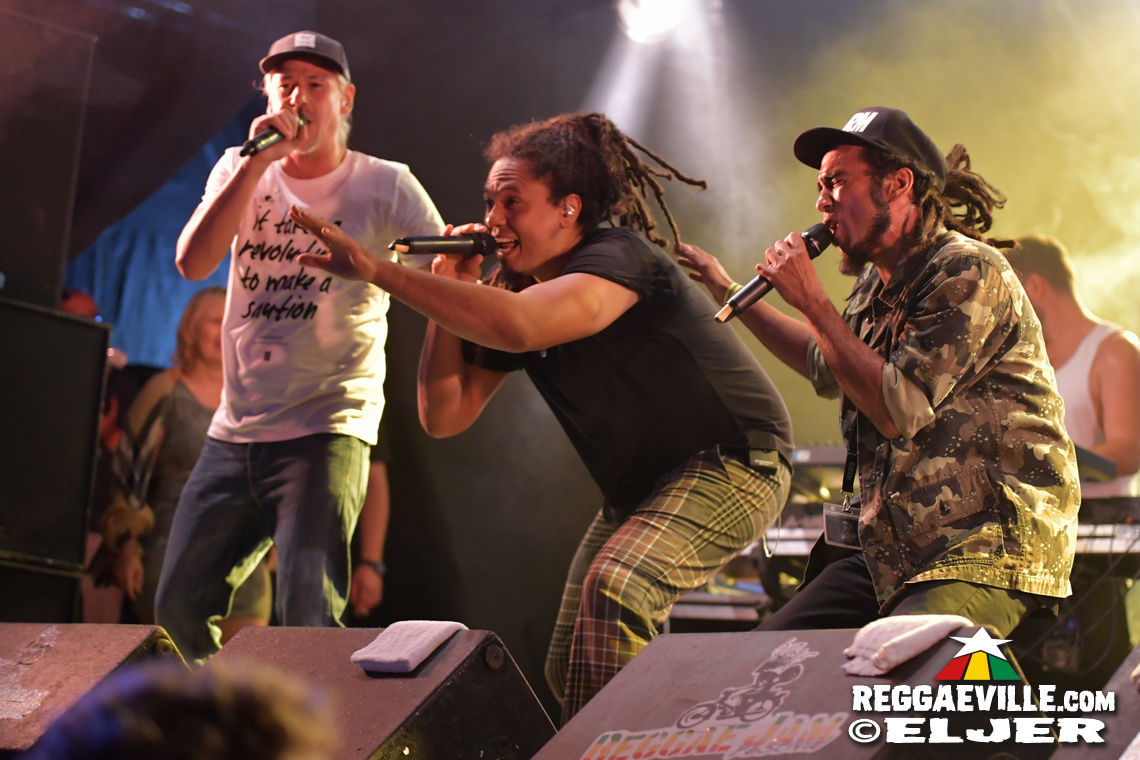 03:32am, Dubcamp, Kibir La Amlak, by Sarah (friend)
For those who have still some energy left, the Dancehall Tent offers an ecclectic mix of Barney Millah, Jugglerz and Citylocks, but since we have been there yesterday, we opt for another visit of the Roots Plague Dubcamp. Due to some unexpected changes in the program, this was the best decision ever, as we are blessed with the incredible live Dub show of Kibir La Amlak featuring Messenger Douglas, both of whom were supposed to perform tomorrow. Maaaad vibes! It took some time before all their buttons and sound machines were set up properly, but what followed was well worth the wait – a mind-blowing experience for sure. The rest that follows this eventful day is deserved for every single person involved – good night!

DAY THREE – SUNDAY [AUGUST 5, 2018]
12:15pm, Special Stage, Reggaehase Boooo, by Naim (Gardy's son)
My mum says that's the first time she succeeded in seeing the performance of Reggaehase Booo – because of me! The story we watch is called The Fire Of Anger, and it's about dragon Alberich who starts to breathe fire whenever he's angry. As the Reggae Forest is suffering from the heatwave as well, this is so dangerous that King Lion decides to put the dragon in a fire-proof prison. Luckily, Reggaehase Boooo and his friends find a solution to calm him down – with music and dance! I especially liked the Ska-Bird and the elephants who squirted water at us.
After the theater piece finishes, the band Yellow Umbrella continue with some refreshing Ska-infused music.
02:23pm, Sandwichmaker, Micah Shemaiah, by Marox (Reggaeville videographer)
More than a hundred people have assembled at Steffen "Moa Fire" Prase's Sandwichmaker Stand to, yet again, get a taste of Micah Shemaiah's artistry. After his memorable performance yesterday, the experience today is more direct, more intimate. Micah's son Zion is on the mic during soundcheck, and doesn't want to stop singing or hand it over until mama Kemesha takes him backstage. The acoustic set that follows (with Giant on percussions, Matthias on Ukulele and Isaiah on bass) takes us on a musical trip of about 40 minutes, sporting Toké and Exile di Brave inna combination stylee on the mic while Sebastian Sturm enjoys the performance as visitor in the crowd. After Micah, surprise guest Uwe Banton holds a vibe. Apart from the main stage, the Sandwichmaker really the place to be for some live action!
02:37pm, Special Stage, The Hempolics, by Gardy (Reggaeville reporter)
Starting with some technical problems, The Hempolics follow Ras Pacey's calm and steady performance. The Special Guest that was announced at 2pm (rumours flying around expected Shabba, Teacha Dee or Exile di Brave) didn't happen, and so all following acts are up around 30 minutes earlier than planned. This hectic might be one of the reasons why band leader Grippa couldn't use the reverb, echo and delay he usually applies during their live sets, and he later told me that this was one of the worst shows they ever did (additionally worsened by being cut short 10 minutes). Enjoying their music in the crowd, however, I am completely unaware of this fact and I really like what they are doing. Singer Nubiya's sweet voice as well as the vocal and melodica contributions by Dandelion make for a relaxed start into this last festival day, and with Craig Boorman on drums, Leon King on guitar, Lorenzo on bass and Grippa on keyboard and effects, The Hempolic's music is a fascinating world to discover (best done with their current album Kiss, Cuddle & Torture Vol. 1).
03:11pm, Main Stage, Sevana, by Sara (friend)
What's the contrary of delay? 30 minutes earlier than printed in the program, Sevana is announced, and I try to reach out to our friends at the camping site who really wanted to see this artiste. The House of Riddim band is starting to play, and then Sevana appears, immaculately dressed in a white, see-through two-piece and golden accessoires. What a beautiful young lady! Apart from her looks, she really knows how to sing. "It's my second time here, and I really feel the love!" she tells us before delivering Carry You and inviting us to join her in Chant It. Nkulee Dube, Jah9, Queen Omega – so far, all female acts have been fantastic, and Sevana is no exception. Women power!!!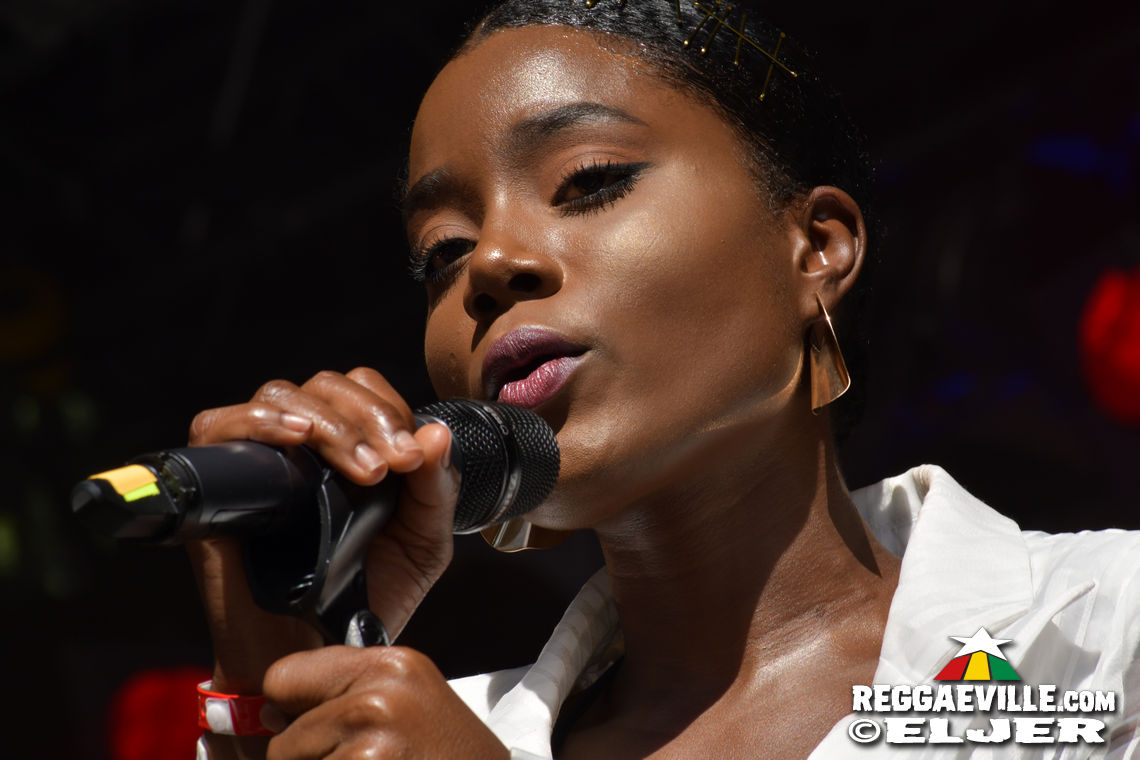 04:55pm, Main Stage, Derrick Morgan, by Gardy (Reggaeville reporter)
I have to admit that I only followed the performance of G Whizz from afar. The young Jamaican artist, clad in a golden crown and yellow and green cape, has certainly fire, but his music didn't quite touch me. What I liked most about his show was that he boldly went over to the main stage, telling the musicians who did a line-soundcheck there to be quiet, as he hasn't finished his last song Make It Better yet. As much as the wish for a smooth line-up without soundcheck-breaks is understandable, the way some bands handle their check while another artist is on the stage next to them is downright disrespectful. When there is an acoustic piece or the artist talks to the crowd, you just can't play a loud drum roll! Just saying…
Anyway, the band on the main stage is in full swing by now, and Derrick Morgan aka The King Of Ska lets his distinctive voice roll over us. After standing in the blazing sun for about 20 minutes, he sits down (his leg is giving him troube, he's telling us) and continues with songs like Miss Lulu, The Conqueror and Fat Man. Utmost respect to this veteran – 78 years of age and still standing strong!
05:49pm, Special Stage, Mighty Diamonds, by Moe (friend)
Foundation time again! With almost 50 years in the music, the Mighty Diamonds are a staple of Reggae music and a must-see wherever they perform. "We've got to live some life before we go!" they tell us in Party Time, followed by All I Have Is Love and Right Time, a song that has the crowd rocking. Of course, Pass The Kutchie can't be left out.
07:35pm, Main Stage, Starkey Banton, Horseman, Tippa Irie & Daddy Freddy, by Gardy (Reggaeville reporter)
Ok, it's officially here: my Reggae Jam moment 2018! After already gripping showcases by the individual artists Starkey Banton, Horseman, Tippa Irie and Daddy Freddy, all four of them are back now, freestyling. Madddd vibes!!! What led to this craze was Horseman's irresistable stage presence during Shimmy Shimmy Ya (which has already over two million views on YouTube, as the artist informs us) and the palancing Tippa Irie ignited right before his hit Stick To My Roots, during which he takes time to introduce the band with Black Steel on guitar, Trevor on trombone, Sarah on saxophone, Sean on bass, Drumton on drums and Andre on keyboard. Especially Daddy Freddy's multi-facetted, staccato Raggamuffin style heats up the audience, and the resulting jumps make clouds of dust rise from the ground, but no one seems to care. When music hits you!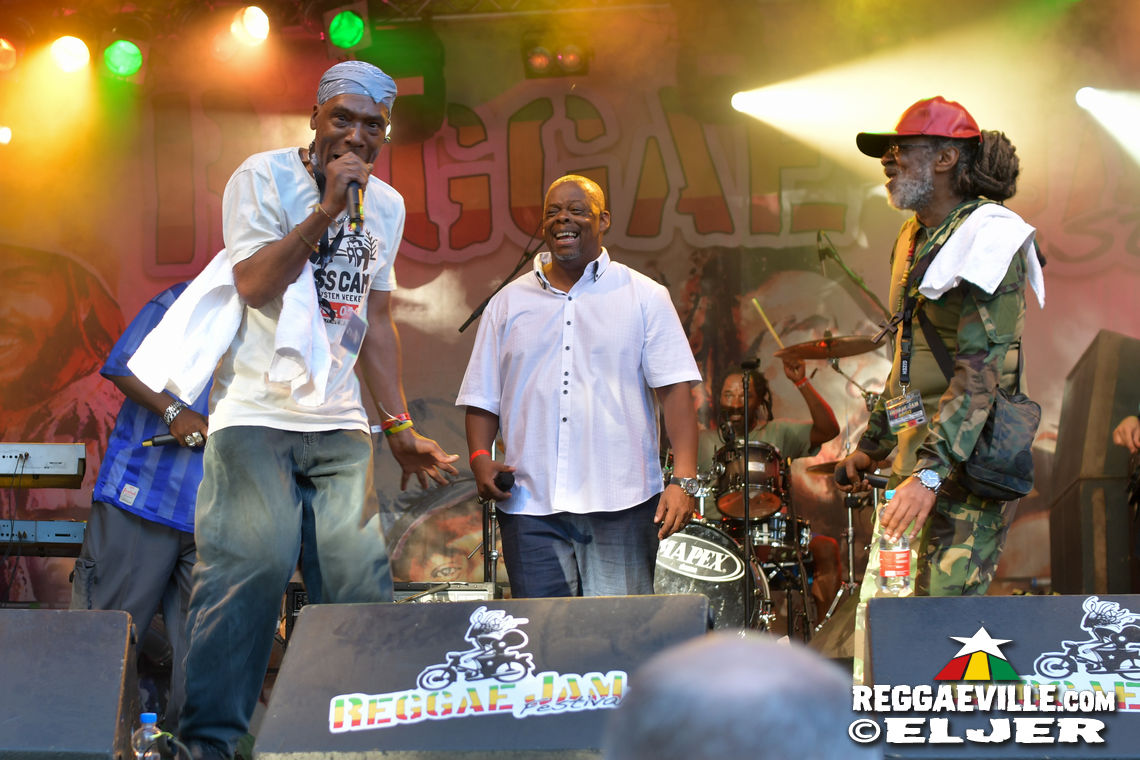 08:01pm, Special Stage, Mr. Vegas, by Steppa (friend)
The show of Dancehall-veteran Mr. Vegas starts with a kind of song quiz initiated by his MC. When the artist appears with his smash-hit Heads High, he leaves no doubt that his recent excursions into Lovers Rock and Gospel were temporary and his heart beats for Dancehall! Thus, the dust mentioned by Gardy has no chance to settle, to the contrary – when the sun slowly descend versus the end of his set, its golden rays are reflected by a myriad of particles in the air.
Calling fellow artists like Wickerman and Skarra Mucci on stage, his show is spiced up further, and when he sings a cover version of Desmond Dekker's Israelites, he tells us that "the reason why we play these tunes is to teach the foundation to the youths!". Respect for that! After a short appearance by Horseman and Tippa Irie, a likkle youth of maybe 4 years of age is brought up on stage during the anthem I Am Blessed, and when Mr. Vegas hands him the mic, he sings the chorus with the cheering crowd into which Vegas then jumps to bring the boy back to his mother and shake hands. Amazing moment!!!
09:19pm, Main Stage, Cocoa Tea, by Lucky (Reggaeville intern)
With Rastaman Chant, Cocoa Tea enters the main stage now hosting the Step by Step Band, beautifully illuminated by the hard working light technicians. I haven't seen this artist perform yet and am deeply impressed by the youthful agility and energy he brings across. By now, the place is full and the audience celebrates tracks like Love Me, Hurry Up And Come or She Loves Me Now. Only his take on Bam Bam and Murder She Wrote doesn't stir the people enough to join in, as too many artists before him have done the same. His final track Tune In, however, is a perfect and duly applauded finish.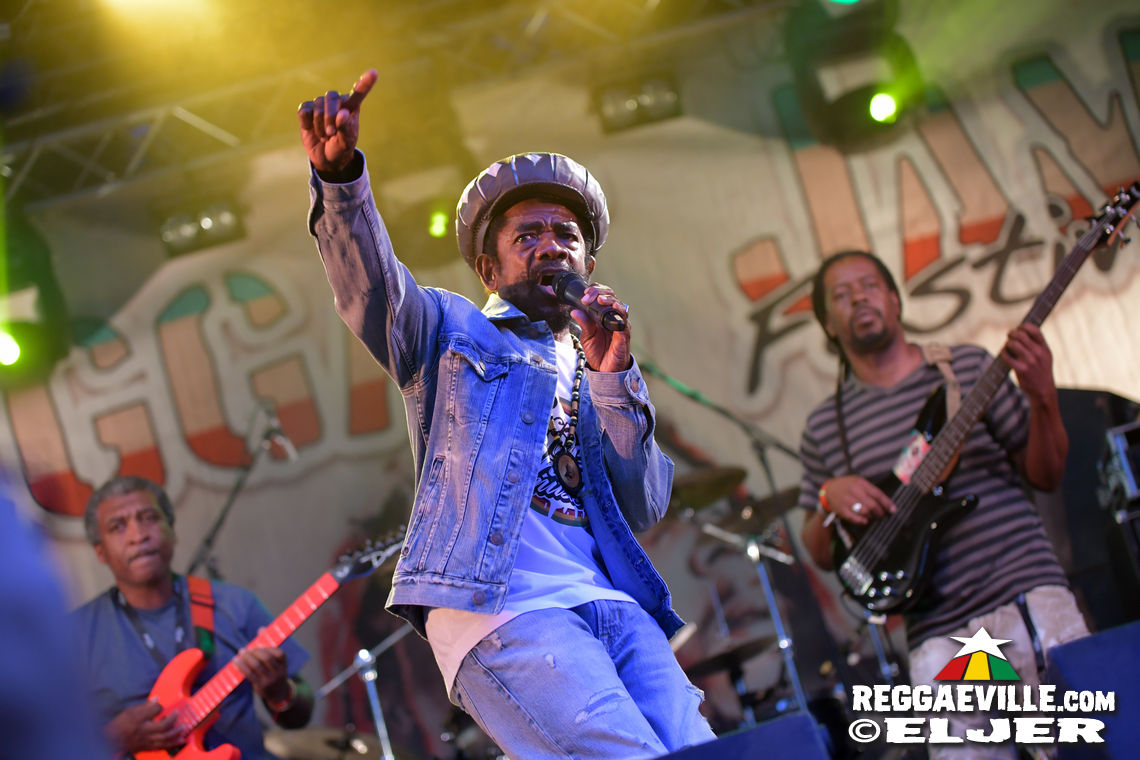 09:59pm, Special Stage, Romain Virgo, by Egon (Naim's friend)
Screaming welcomes Romain Virgo and his Unit Band who've been touring together during the past months to promote his latest release LoveSick. Their set is unfortunately cut short due to time pressure, but songs like Can't Sleep, God Inna Me Corner and Fade Away are played and celebrated extensively. After the show, I manage to take a picture with this my favourite artist, and the smile won't leave my face for the rest of the night!
11:41pm, Main Stage, Junior Natural, Bitty McLean, Johnny Osbourne and the Taxi Gang Sly & Robbie, by Gardy (Reggaeville reporter)
The last slot of this 25th Reggae Jam edition is reserved for some very special guests: Sly and Robbie are here! No wonder these drum & bass idols require a special soundcheck, and the next few minutes fall victim to what looks like some technical difficulties. When they do start to play, they deliver some classic riddims and then young Junior Natural from Sweden is the first artist to play with them. Up next, Bitty McLean grabs his trademark mic, but the first song Never Let Me Go is lost to the audience, as it doesn't reach the big speakers (and Bitty doesn't realize this technical problem as the monitors on stage are perfectly audible). It takes almost the whole song before the problem is solved, and when Bitty's beautiful voice is finally heard, the cheers from the crowd are deafening. "Play it from the top to the very last drop!". Continuing with sweet Rubadub and Rocksteady music, the UK artist sings In And Out Of Love, To Fall In Love and others, and then a little sensation happens: Robbie Shakespeare, the legendary bass player, takes to the mic and sings Queen Majesty! I'm not sure if that ever happened anywhere – everyone I asked so far says that's a unique experience.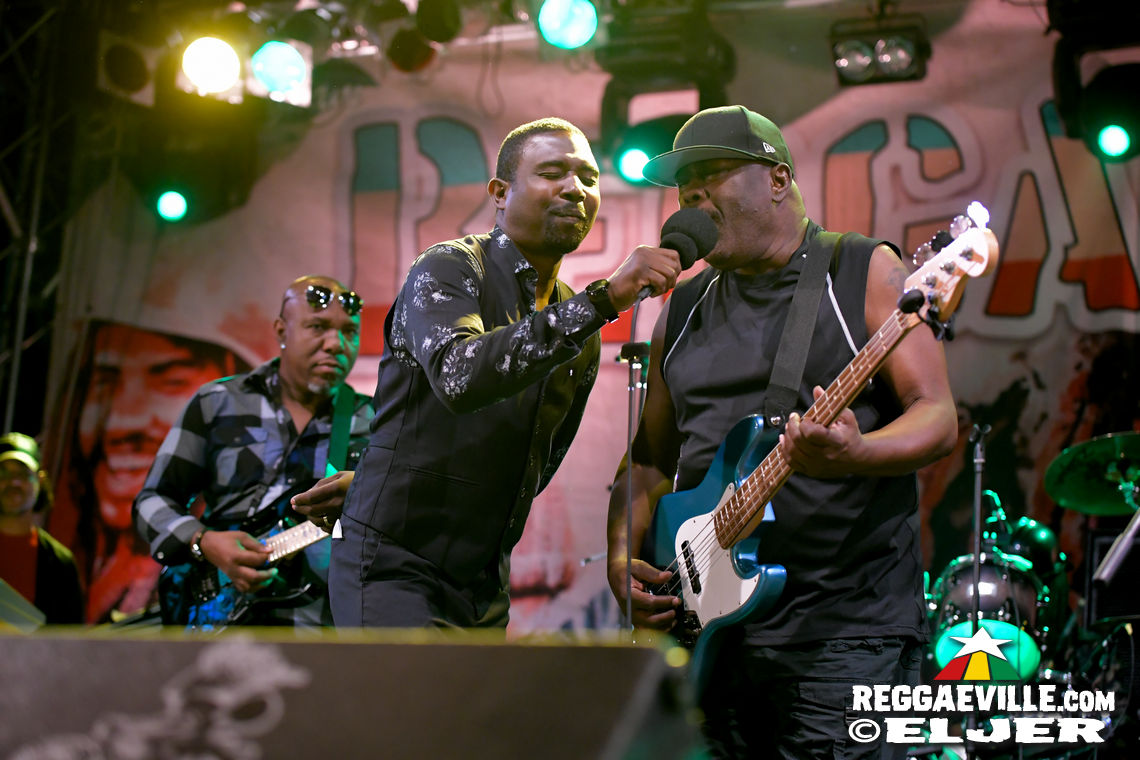 Last but not least, Mr. Johnny Osbourne comes up, an artist who rose to popularity in the 70's and 80′ with versatile versions of riddims such as King Jammy's Sleng Teng. Of course, his Icecream Love is heard on the set, as are Murderer and YoYo. Foundation tunes fi real! Just before the announced curfew, Bitty McLean and Junior Natural join the veteran on stage once more to sing their goodbyes, and even after all other artists and musicians left the stage, Robbie Shakespeare is still standing there, playing and, when a technicians brings him a mic, singing Baby Can I Hold You Tonight and engaging the audience in a final call and answer.
As always, the closing moment belongs to Sheriff and his crew, thanking each and every one involved. Christian Klütsch, the mayor of Bersenbrück, expresses his gratitude as well, stressing how every visitor is welcome and how the whole town stands behind this festival. They are even planning to do a Reggae Jam traffic roundabout!
Sheriff continues to talk about the extreme challenges the festival crew mastered – on the down side, the fire brigade and THW had to cut down a tree which was threatening to fall close to the family camping, and a water brigade had to free a woman from the river who got trapped in an old shopping cart. On the up side, there were no serious fights, no senseless vandalism – an extremely peaceful weekend lies behind us!
The sounds of marching band Rote Heide are the last to blaze up the special stage, and a spontaneous polonaise forms among the audience. A medley of Bob Marley covers accompanies the roundabout 15.000 visitors to either their tents or a last snack at the food stands or, as our little group, to the Sandwichmaker, where a calm aftershow-party is running.
Sunshine, music, friends and family – a perfect way to celebrate this 25th edition of Germany's number one festival, REGGAE JAM!!!